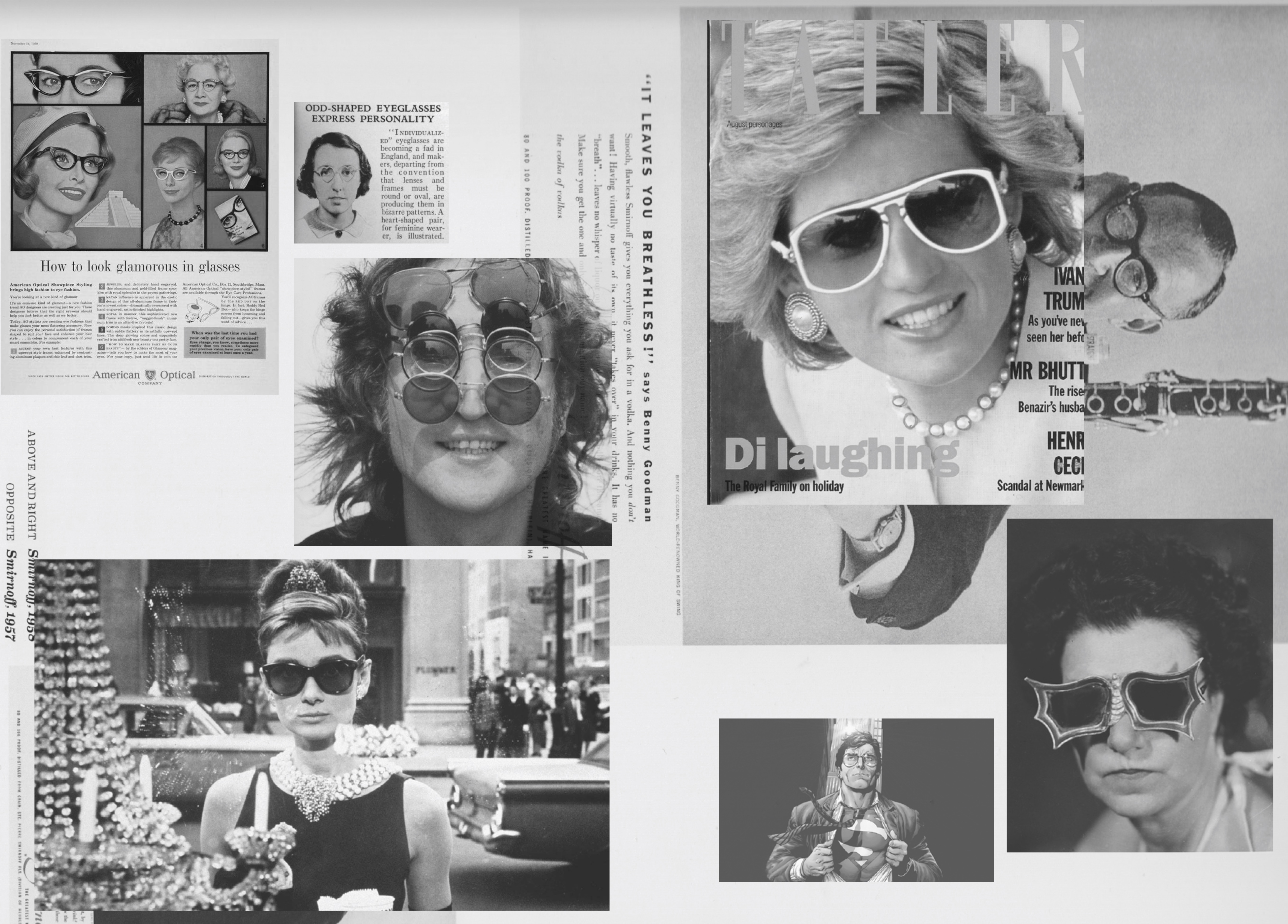 SPETACLES
Mémoire 2017-2018
Directrice: Camille de Single


Le titre Spectacles est un mot anglais, qui se définit d'abord les lunettes, objet qui sert à corriger les défauts de la vue et à protéger les yeux. « Spectacle » désigne également ce qui est donné à voir, et que l'on peut traduire en français par le mot spectacle. Cette seconde définition se retrouve d'ailleurs dans l'étymologie latine du mot français « spectacle », le radical spect-, désignant « ce qui s'offre aux regards, est susceptible d'éveiller des sentiments, des réactions ».

Je m'intéresse aux relations entre les objets et les humains. À la manière dont les objets s'adaptent, se transforment, s'accordent aux besoins des gens. Et à l'inverse, à la façon dont les gens s'habituent, se changent, et s'harmonisent aux objets eux-mêmes.

Ce mémoire a été l'occasion de réfléchir sur les questions entre les lunettes et les besoins humains : de quelles façons et dans quels objectifs peut-on créer des variantes de forme des lunettes ? Dans quelle situation les porte-t-on ? Et pour quelles raisons ? Comment la forme de lunettes se développe-t-elle ? Et de quelle raison ? N'existe-t-il pas un lien entre le développement des lunettes et l'évolution des besoins et comportements humains ?

La raison pour laquelle j'ai choisi les » lunettes » comme objet de recherche est qu'il s'agit du « seul accessoire qui soit capable de maximiser les capacités physiologiques d'un homme ». C'est-à-dire qu'il joue différents rôles dans la vie quotidienne, aussi bien au niveau de la correction de la vue qu'au niveau de l'image de celui qui les porte. Ils peuvent refléter le développement des besoins, ainsi ils nous montrent une scène de symbiose, qui est entre l'être humain et les objets qui sont recherchés, mais aussi entre tradition et modernité, entre abstraction et symbolisme


Mot-clé : Lunettes, Spectacles, Instrument, Accessoire, Masque, Rôle, Identité visuelle, Harmonie, Voie.




EN
The title Spectacles is an English word, which is first defined as glasses, an object that serves to correct the defects of sight and to protect the eyes. "Spectacle" also refers to what is given to see, and that can be translated into French by the word show. This second definition is also found in the Latin etymology of the French word "spectacle," the radical spect-, designating "what is offered to the eyes, is likely to awaken feelings, reactions."

Objects also provoke emotions and reactions.
I am interested in the relationship between objects and humans. The way the objects adjust, transform, and adapt to human needs. And conversely, the way that people get used to, are changed by, and harmonize with the objects themselves.

This dissertation is an opportunity to reflect on the questions of the wats of seeing (glasses) and human needs (desire). In which ways and with what objectives can we create variant shapes of glasses? In which situation do we wear them? And why? How does the shape of glasses develop? And what are the reasons? Is there a link between the development of glasses and the evolution of human needs and human behaviors?

The reason I chose glasses as a research subject is that "They are the only accessory capable of maximizing man's physiological capabilities." i.e., glasses play different roles in everyday life, both in terms of vision correction and the image conferred on the one who wears them. They are a reflection of the emotion of human needs from utilitarian function to aspiration for recognition and acquisition of objects of desire. This "spectacle," they create in our daily lives is one of symbiosis: between human being and desired object, tradition and modernity, abstraction and symbolisme.