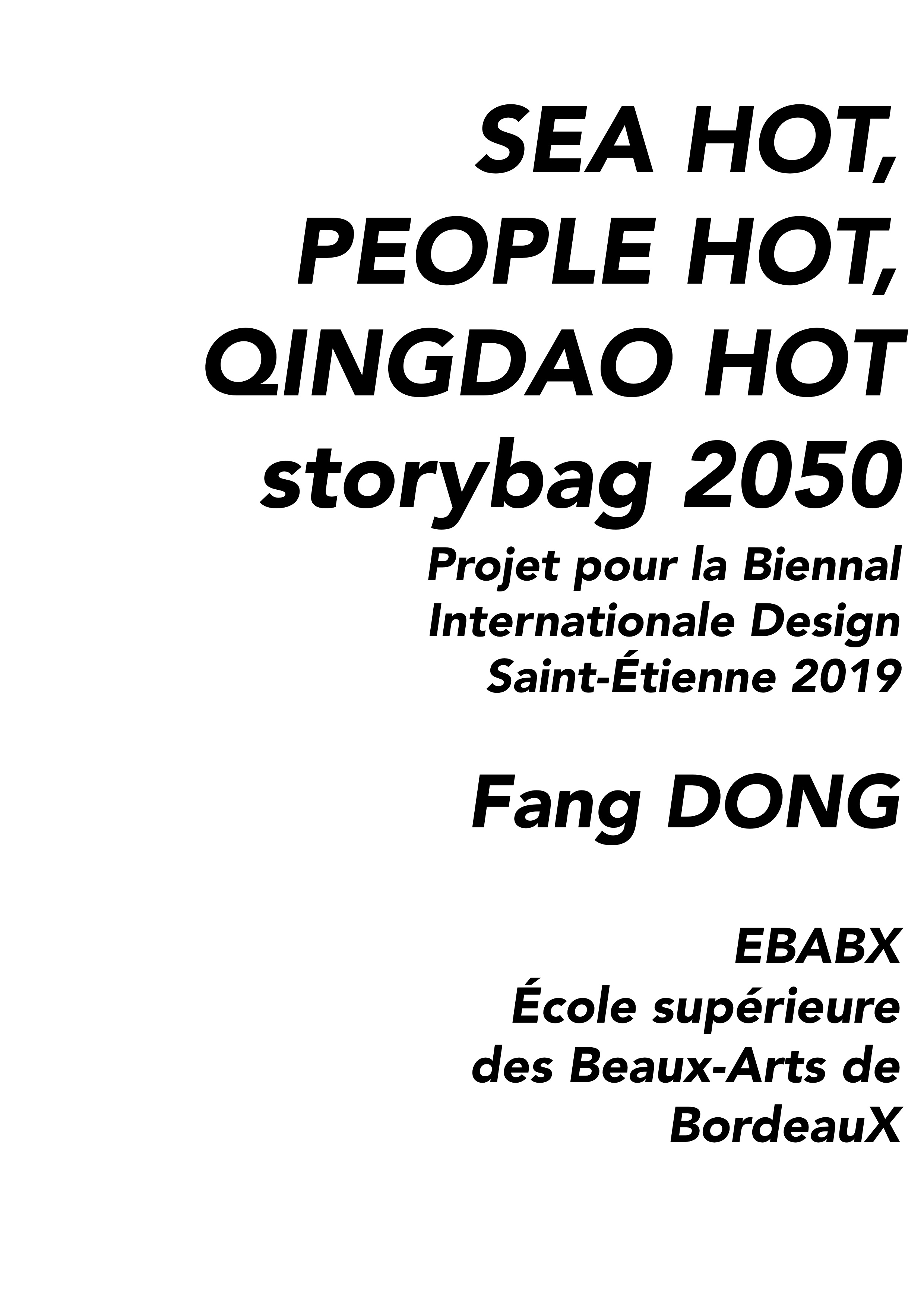 Projet pour
la Biennal Internationale Design Saint-Étienne 2019
21.03 - 22.04 2019
FR
SEA HOT, PEOPLE HOT, QINGDAO HOT storybag 2050.
Nous sommes à Qing Dao, une ville portuaire en Chine, ma ville natale. J'ai observé son environnement et analysé les comportements vis-à-vis des conséquences du réchauffement climatique et de l'eutrophisation de l'eau de mer. Je préfère regarder la réalité telle qu'elle se présente devant nous, j'examine ce que le passé a construit pour nous, j'intègre de nouvelles technologies et des objets pour de nouveaux comportements quotidiens.
Le mot anglais « hot », qui se définit d'abord comme « chaud, à haute température »,désigne aussi « une chaleur psychologique, exécutée avec intensité, pleine de passion,d'enthousiasme et d'énergie.»
La recherche est développée en trois parties:
EN
SEA HOT, PEOPLE HOT,
QINGDAO HOT storybag 2050
.
Location Qingdao, my hometown and also a port city in China. I have observed its environment and analyzed the behavior vis-à-vis the consequences of global warming and eutrophication of seawater. I have chosen to look at reality as it stands before us, examine the past what has built for us, integrate new technologies and imagine new objects will
have an impact on the way we live.
The English word "hot", which is first defined as "high temperature", also refers to" a psychological heat, performed with intensity, full of passion, enthusiasm and energy."
The research is developed in three parts:
CN
疯狂海SEA HOT,疯狂人PEOPLE HOT,疯狂青岛2050故事包QINGDAO HOT storybag2050
项目选址为我的家乡青岛。我观察它的环境变化,分析全球变暖和海水富营养化带来的后果及其影响。法国的生活让我养成了把熟悉事物当成未知领域重新探索和开发的习惯。这种事物陌生化的方式使我对生活中的任何细节充满了好奇心,不仅让我对于事物和人之间的关系有了新的认识,也鼓励我对人与物之间无穷的可能性进行探索。通过研究新的技术想象新物体将如何影响我们的生活方式及行为。
英语单词"hot",最初被定义为"高温",也指"心理上的热度,表现强烈,充满激情,热情和活力"。
该研究分为三个部分: